Learn how to look & feel fantastic in your body
without feeling hungry or unsatisfied
without buying strange and expensive foods or supplements
and without spending hours at the gym
Have you ever thought...
I'm exercising and eating healthy foods, why aren't I losing weight?
I just want to feel confident in pictures
I want to stop overeating at night, I feel so unhappy the next day
I need a food plan structure that works for ME

I want to stop obsessing over everything I eat
I just want to feel so much more comfortable in my body
I just want to know what nutrition info is correct, there's so much out there
I want to have a plan in place that works for ME
I just want to not have to constantly worry about food - what keeps me full and what's actually nutritious
The truth is... there is an easier way!
And I CAN'T WAIT to show you how.
Believe me, I totally get it.
Let me tell you a little about my story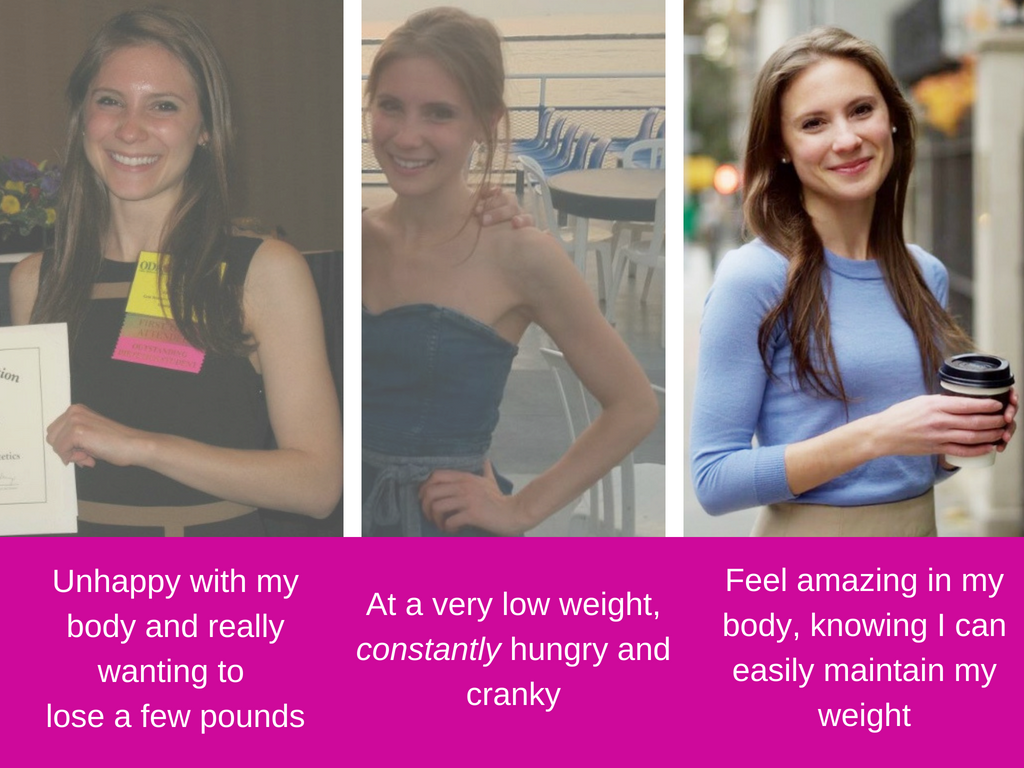 When I was in middle school, high school and the first few years of college, I was SO unhappy with my body and my weight.
I didn't want to just "accept my body" because I knew I would be more confident and comfortable a few pounds lighter.
I would look at my friends and be so jealous. Why couldn't I just look like that? They were eating chocolate and pizza and takeout. It felt really unfair.
Hey, vanity is allowed!
But I couldn't find a way to lose those pounds without starving myself, or without having to cancel plans with friends in order to stick with "my plan".
I tried a number of diets - but, as I'm sure you can imagine, they lasted about a few hours, or a few days at most. They just weren't sustainable.
It seemed like a real lose-lose situation. It got so bad that I actually had to take time off from college to focus on my relationship with food, and focus on self-care.
During this time at home, I knew something drastic needed to change. I knew I needed more nutrition knowledge about what exactly would help me get to, and stay at, the weight I wanted.
I started taking some nutrition classes at a community college, and when I went back to my university, I switched my major to nutrition.
I'd like to tell you it was smooth sailing after that... but I was a work in progress for another few years!
It took getting my PhD in behavior change, and coaching hundreds of women, and seeing what worked, and what didn't work, to come up with a customizable system that kept me, and my clients, at our ideal weights, for the LONG term!
And, most importantly, I finally was able to figure out what I really wanted - true happiness and bliss, and a mind free of food thoughts. There is so much more to life than constantly thinking about food, SO MUCH more!
Does any of that resonate with you?

Now, truly take a minute to imagine…
Feeling so, so confident in your body
Having a meal plan you feel super comfortable with
Feeling amazing in pictures

Being consistent with staying on track with your health goals
Having single-serving meals at your fingertips (based on what foods you LIKE and what foods you can afford!)
Feeling full and satisfied
Saving money on food
Not obsessing over every meal and snack
Feeling great in your clothes
Not overdoing it on snacking while working or studying late at night, or on a stressful project
Stopping overeating and feeling guilty when eating "unhealthy" foods
Enjoying time with friends, and NOT worrying about food
Knowing what works for YOU
Having more energy - not feeling sluggish at meals and throughout the day
Knowing what nutrition information is actually correct
Feeling empowered to make the healthy choice
Being able to stay motivated throughout the tough times